Shop For Wine
Buy wine online! select from hundreds of wines you can only find in restaurants. Whether you are searching for a full bodied cabernet sauvignon or a fresh and fun prosecco, WineWire has the wine for you.
Subscribe to our free newsletter for the inside scoop on great wines & upcoming wine events
Subscribe
Can't find the wine you love?
We can find it for you!"
Find My Wine
Featured Products
New @ Winewire
Trending Wine






MIXED 12-PACK "ESSENTIAL ITALY" From 30.50 Imports Inc.

Wine Type:
Style of Wine:
Various
Country of Origin:
Italy
Grape Varietal:
Glera, Pinot Grigio, and Sangiovese
Bottle Format:
750mL
Case Size:
12 bottles

$279.96 Per Case ($23.33/btl)



Add to Cart


Tasting Notes

Wine 1: Belstar Prosecco Brut, BISOL 1542. Valdobbiadene
Fresh apple and pear aromas with a hint of blossom. Medium bodied with fresh apple and citrus fruit, creamy mousse and a fresh clean finish. Versatile and fun sparkling wine to be enjoyed while relaxing, with appetizers and impromptu celebrations.

Wine 2: 2019 Pinot Grigio 'La Lot', Peter Zemmer. Alto Adige
LA LOT Pinot Grigio reflects the origin of its prime growing area in style and character, and demonstrates all the varietal's best characteristics: dry, medium structure and intensity on the palate, balanced with lively acidity, some minerality, citrus and apple fruit with a zesty finish.

Wine 3: 2018 Ormanni Chianti
Tuscany
An approachable Sangiovese in its youth with potential to age over the mid-term: dry, medium-bodied with soft tannins. The wine is driven by fresh dark berry fruit; ripe cherry and plum. There is an underlying note of leather and earth that nicely complements the subdued baking spices of clove and star anise.




Critical Praise

12-bottle mixed pack includes 4 bottles of each:

Belstar Prosecco Brut, BISOL 1542. Valdobbiadene

2019 Pinot Grigio 'La Lot', Peter Zemmer. Alto Adige

2018 Ormanni Chianti. Tuscany



Comments
You may also like...

Veneto, Italy, 750mL, 12 bottles per case
This mix case contains 6 bottles of Vigna Lisa 2020 Veneto IGT Pinot Grigio and 6 bottles of 2020 Vigna Lisa Veneto IGT Cabernet Sauvignon. The Pinot Grigio ...


Napa Valley, California, USA, 750mL, 6 bottles per case
This classic mix case 3.0 contains 2 bottles of each 2017 J. McClelland Cellars Napa Cabernet Sauvignon, 2017 J. McClelland Cellars Napa Valley Chardonnay, a...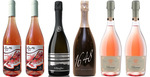 Italy, 750mL, 6 bottles per case
Lovely to look at and to sip, this mix of rosé and sparkling Italian wines make a tasteful gift. Quality and versatility are the hallmarks of these beauties....